The Big 5 Construct Western Cape 2022
Views:
49
The Big 5 Construct Western Cape, previously Cape Construction Expo, is the only event dedicated exclusively to the building and construction industry in and for the Western Cape. With over 80 exhibitors featured across the indoor and outdoor exhibition area, The Big 5 Construct Western Cape 2022 exhibition offers access to the most innovative building materials and technologies. Free workshops and demonstrations will provide training, capacity building, and networking opportunities for all attendees.
Attend The Big 5 Construct Western Cape 2022 to:
• Save time and money by gaining access to over 80 exhibitors showcasing hundreds of innovative products, equipment and technologies from the entire construction value chain
• Expand your knowledge and skills to propel your business success by attending free CPD accredited workshops
• Access exclusive insights into new products and strategies that will help you reduce costs, increase revenue and take advantage of new market opportunities
• Discover the latest projects and tenders available in the market to extend your footprint at exclusive project showcases
• Engage with public and private sector stakeholders over the most critical issues at the free-to-attend Stakeholders Engagement Forum
The Big 5 Construct Western Cape 2022, organized by dmg events.
Website: www.thebig5constructwesterncape.com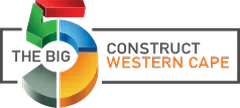 Venue: Sun Exhibits, Grandwest, Cape Town, South Africa
Duration: 2 days, 23 hours