Bridal Expo 2020 - Every bride deserves to fulfil her dream. Oakfield Farm Wedding Venue is renowned for slick co-ordination. Our two Bridal Expos held in January & July each year continue to celebrate their uniqueness - upholding both an easy-going vibe enhanced by the exceptional quality of exhibitors; the elegant grandeur of its existence and of course the proficiency of Oakfield´s friendly staff members. Couples get to meet South Africa´s leading wedding specialists in the beautiful and romantic gardens of this sought after wedding venue. Add to that, no expo is complete without great food and entertainment. Various food vendors and live entertainment will be available in the sought after gardens at the venue.
With over 150 Top Wedding Specialists to choose from, a spectacular Free Fashion Show @ 3 pm, Great Food, Live entertainment & Fantastic Prizes to be WON at the Fashion Show each day, this bridal event is guaranteed to leave you feeling inspired & ready to plan your PERFECT day!
We will be hosting the BIG BRIDAL POP UP, which is the biggest wedding dress sale in South Africa - this is one Expo not to be missed!
Bridal Expo 2020, organized by Bridal Expo.
Website: www.bridalexpo.co.za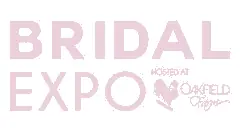 Venue: Oakfield Farm Wedding Venue, Johannesburg, Gauteng, South Africa
Some of the Exhibitors at the Bridal Expo 2020: