Medication Trolley

at KAS Medics Ltd
Views:
256
The Medication Trolley is a multi function cart with:
• 4 drawers in painted steel
• 1 ABS extending table
• 1 ABS 10 liters waste bin
• 1 grey ABS catheter and probe holder.
• The self-bearing monocoque body is made of steel sheet coated with anti-mould epoxy powders.
• The left compartment features four trays with metal rim.
• Drawers are made of anti-mould epoxy powder coating steel, and are equipped with:
- central locking system
- silent sliding system on metal tracks and rollers
- end stoppers.
- 3 drawers mm. 615 x 470 x 147 H, 1 drawer mm. 615 x 470 x 223 H.
• The tabletop is made of technopolymers and has no sharp edges for an easy use when cleaning and disinfecting.
• Holding frame for dispenser with modular drawers.
• Push handle in stainless steel, fully integrated in the frame.
• 4 casters, 2 with brake, 125mm (anti-static on demand), non-marking, anti-thread, mounted on swiveling bearings
• 4 PVC non-marking bumpers.
Manufacturer:Fazzini
Medication Trolley Image Gallery: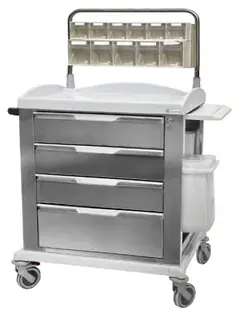 Stainless steel - Medication Trolley - KAS Medics Ltd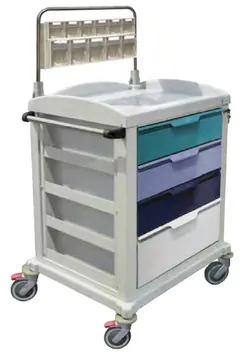 Side view - Medication Trolley - KAS Medics Ltd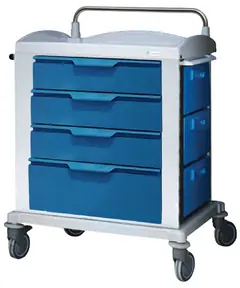 Side drawers - Medication Trolley - KAS Medics Ltd