ICU Multi-Functions Medical Bed

at KAS Medics Ltd
Views:
232
ICU Multi-Functions Medical Bed
• Material: steel framework, top class ABS & PP plastic.
• Electrical operated bed supplied with easily operated 10.2&quot touchscreen at the foot board display all the bed posture figures.
• All function controlled with Linak Power Device (Actuator), 220V AC, 50HZ(110V on request). Equipped with battery backup.
• Four easy lifting guardrails (2 on each side), which are safe and reliable, and can be fixed upward and downward.
• Easy to operate built-in control panel on both sides of guard rails.
• High quality ABS engineering plastic head panel and foot panel.
• 150mm diammeter, noiseless castors with simultaneous braking system.
• Supplied with IV pole mount bracket at 4 corners of the bed frame.
• Standard accessory: I.V. pole.
Manufacturer:Fazzini
ICU Multi-Functions Medical Bed Image Gallery: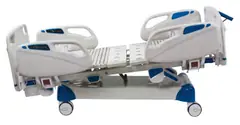 ICU Multi-Functions Medical Bed - 1 - ICU Multi-Functions Medical Bed - KAS Medics Ltd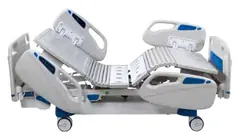 ICU Multi-Functions Medical Bed - 2 - ICU Multi-Functions Medical Bed - KAS Medics Ltd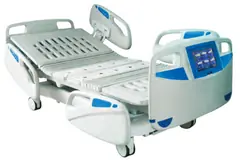 ICU Multi-Functions Medical Bed - 3 - ICU Multi-Functions Medical Bed - KAS Medics Ltd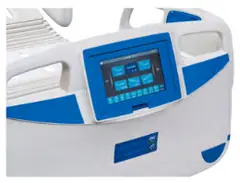 Weight scale and weight data management - 1 - ICU Multi-Functions Medical Bed - KAS Medics Ltd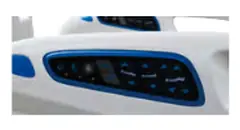 Weight scale and weight data management - 2 - ICU Multi-Functions Medical Bed - KAS Medics Ltd