Emergency Cart

at KAS Medics Ltd
Views:
199
The Emergency Cart is a cart made of epoxy painted steel.
The Emergency Cart is equipped with:
• CPR: height-adjustable IV pole in stainless steel, defibrillator holder, massage board in transparent plexiglass, 4 front drawers.
• Right side: 1 ABS extending table, 3 swiveling drawers.
• Left side: bottle holder with 4 compartments.
• Backside: 1 built-in oxygen cylinder holder, 1 ABS catheter and probe holder.
• The defibrillator holder swivels 360°, is height-adjustable and is made of AISI 304 stainless steel.
• Drawers are made of steel and are equipped with: central locking system, silent sliding system and end stoppers.
• Locking with disposable seals (no. 50 supplied with cart) through plexiglas board for CPR massage.
• Drawers: 1x mm. 445 x 470 x68 H drawer, 1x mm. 445 x 470 x 147 H drawer, 2x mm. 445 x 470 x 223 H.
• Stainless Steel integrated push handle.
• 4 casters, two with brake, 125mm (anti-static on demand), non-marking, anti-thread, mounted on swiveling bearings, 4 PVC non-marking bumpers.
Manufacturer:Fazzini
Emergency Cart Image Gallery: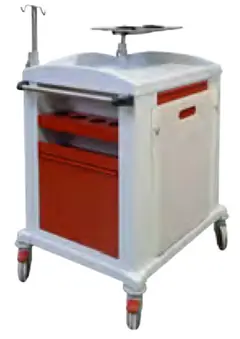 Sideview - Emergency Cart with oxygen bottle holder - Emergency Cart - KAS Medics Ltd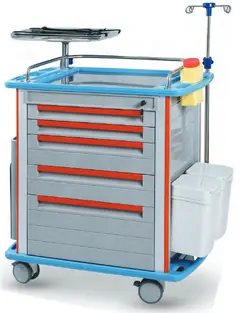 Emergency Cart with oxygen bottle holder - Emergency Cart - KAS Medics Ltd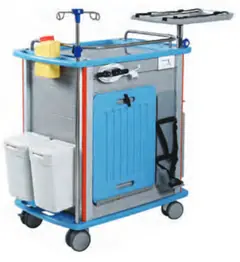 Side view - Emergency Cart with oxygen bottle holder - Emergency Cart - KAS Medics Ltd
Side view - Emergency Cart with oxygen bottle holder - Emergency Cart - KAS Medics Ltd