East Africa Tourism & Hospitality Expo (EATHE) 2020
Views:
359
The East Africa Tourism & Hospitality Expo (EATHE) 2020 is largest travel expo in East Africa, offering the ideal platform for B2B meetings between leading African products and top-producing global buyers.
East Africa Tourism & Hospitality Expo (EATHE) 2020 will be a platform which connects all stakeholders for each to capitalize the opportunities for their own utilities. The event is estimated to engage at least 400+ exhibitors and 5000 attendees from the travel industry globally and in this region, over 3000 of these attendees are trade visitors (buyers).
East Africa boasts major regional attractions that remain key tourism destinations; ensuring a steady flow of visitors and increasing numbers of tourists from around the world.
The Guest of Honor will be Minister of Tourism, Dr Hamisi Kigwangalla. Our Hosted Buyers and Professional Visitors come from key tourism source markets in UK, Europe, Asia, Middle East, North America Australia and Africa.
The East Africa tourism offer counts with one of the richest wildlife, number of the world heritage sites world and include the Serengeti plains in Serengeti National Park which host the largest terrestrial mammal migration in the world, the Ngorongoro Crater, the world´s largest intact volcanic caldera, home to the highest density of big game in Africa, and Africa´s highest mountain Kilimanjaro and the beautiful tropical beaches in Zanzibar.
Highlights for East Africa Tourism & Hospitality Expo (EATHE) 2020:
Very high satisfaction rates for exhibitors and buyers with many participants
Over 400 exhibitors Will Participate in 2020
Over 600 international buyers from 18 markets
20 International Hosted Media
FAM trips in 8 different parts of Tanzania
35 trade partners participating in the extensive hosting programme
Matchmaking system at the expo
Seminar Programme and Presentations
Welcome Cocktail function for the Ministry delegation, Hosted Buyers, Exhibitors and EATHE sponsors
50 Media and Association Partners.
East Africa Tourism & Hospitality Expo (EATHE) 2020 attracts approximate visitors from East Africa region (58%) and foreign countries (42%). These exhibitors and trade visitors will include but not limited to:-
Exhibitors Profile:
Tour Operators
Travel Agents
Hotels, Resorts, Tented Camps, Lodges & Restaurants
Tourism Associations
Travel Associations
Hotel Associations
Tourism Boards
Airline & Charter Flights
Tourism Ministries
Government Representatives
Car Rentals
Carriers
Business Travelers & Visitors
Tanzania working class, host communities and local communities
International buyers and expat communities from around the world
East Africa Tourism & Hospitality Expo (EATHE) 2020, organized by Mikono Expo Group.
Website: mikonoexpogroup.com/eathe/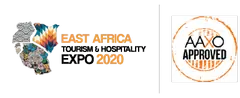 Venue: Ushirika Stadium, Moshi, Kilimanjaro, Tanzania