Arusha Automotive Show 2019
Views:
408
"For The Great Outdoors!"
Due to popular demand, Arusha Automotive Show comes back yet again this year! Insights from the first edition (in February 2019) prompted the organizer to shift the show to December. More to changing the timing, the venue is also new and better - Sheikh Amri Abeid Stadium! The new location (Sheikh Amri Abeid Stadium) sits at the busiest part of the town - Col. Middleton Road towards Main Bus Stand - therefore an expected good visitors´ turn out. December marks the start of the festive season and the long holidays - a trade show during this time exposes products and services to an almost ready-to-spend market; people tend to spend more for holidays and end-of-the-year festivities as they prepare to travel, visiting relatives and friends. Vehicle repairs & service, tyre and battery change, insurance upgrades and auto detailing are some of the many things people do to their vehicles during this time of the year. It´s an event not to miss!
Highlights:
Show N Shine Car Competition - for the 5 BEST CARS
A FREE Pepsi / Mirinda / SevenUp Soda bottle at the gate
Great Cash Bar and Food Court through out the days
Live DJ Set
ALL about cars - new & classic cars, auto-spares & parts, insurance, care products, wheels & tyres
Arusha Automotive Show 2019, organized by Arusha Auto Show.
Website: arushaautoshow.com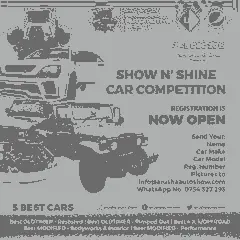 Venue: Sheikh Amri Abeid Stadium, Arusha, Tanzania