The 11th Triennial Conference - African Potato Association 2019
Views:
602
Leveraging Potato and Sweetpotato Contribution to Sustainable, Nutritious Food Systems.
The African Potato Association core objective is to promote production and utilization of potato and sweetpotato for food and nutrition security in Africa. Additionally, the APA facilitates knowledge sharing by bringing together diverse stakeholders in the potato sector across Africa. Drawing scientists, practitioners and entrepreneurs from over 20 African countries and abroad, the APA members cover an extensive range of research and development of the promising crops.
The 11th Triennial Conference - African Potato Association 2019, organized by Rwanda Ministry of Agriculture (MINAGRI) and the International Potato Center (CIP).
Website: africanpotatoassociation.org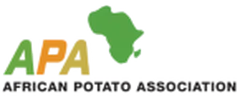 Venue: Kigali Convention Centre, Kigali, Rwanda
Duration: 5 days, 3 hours