Africa Agri Expo Nigeria 2020
Views:
440
The Agricultural industry in Africa is witnessing unprecedented development. Nigeria is taking a leading role in emerging as a pivot for Africa´s Agriculture Industry. Africa Agri Expo Nigeria 2020, is an important initiative promoting Africa´s rich Agriculture sector and presenting investors and international companies a great way to explore the huge untapped potential of this historic continent.
Nigeria has enviable agricultural resources - including approximately 85 million hectares of arable land; tremendous water resources through two major rivers; major seaports to access global trade; a sizable workforce; and the agro-climatic diversity to grow grains, fruits, nuts, spices, vegetables, and livestock.
In addition to this, the Nigerian government has developed policy to diversify the economy from crude oil to agriculture to boost Food production and reduce Food importation. There are numerous incentive schemes deployed by the Federal Government to make the agricultural sector more attractive for investment.
Africa Agri Expo Nigeria 2020 aims to provides an excellent networking platform for Agriculture Companies, Service Providers, Machinery and Equipment Companies, Technology Companies and Investors to build valuable connections and explore numerous business opportunities.
Africa Agri Expo Nigeria 2020 will bring together African and global Agriculture professionals to explore the market, introduce their brands, make new connections, win new projects & create long-term partnerships.
Nigeria remains a distinct country in Africa where Agri-business is most viable in terms of productivity and profitability.
Africa Agri Expo Nigeria 2020 is not an event, you could afford to miss !
Africa Agri Expo Nigeria 2020, organized by TAB Group.
Website: africa-agriexpo.com/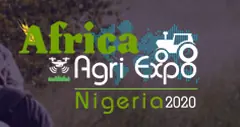 Venue: Eko Hotels and Suites, Lagos, Nigeria
Some of the Exhibitors at the Africa Agri Expo Nigeria 2020: