UK Universities Education Fair 2020 - Mombasa
Views:
342
Are you Interested to Study In UK?
The UK has countless higher education institutions, and almost every single one of them has opportunities for international students to study there. You can choose from a variety of different undergraduate and graduate degrees, and combine your courses in order to make a degree program that suits your needs and interests.
British schools have a rich history and tradition of providing a world-class education to their students.
Your Education Will Be Recognized Wherever You Go !
Come and meet Official Representatives from UK Universities at the UK Universities Education Fair 2020 in Eldoret (4th March 2020 at Rupa's Mall), Mombasa (5th March 2020 at CityBlue Creekside Hotel) and Nairobi (6th-7th March 2020 at Sarit Expo Center)
Some of the participating institutions at the UK Universities Education Fair 2020 include:
Aston University, Bath Spa University, Brooke House College, University of Birmingham, Brunet University, Cardiff University, Cambridge Education Group, University of Chester, Coventry University, Cranfield University, De Montfort University, University of Derby, University of Essex, University of East London, University of Exeter, University of Glasgow, University of Hertfordshire, INTO Colleges, Kaplan International Colleges, University of Kent, Kingston University, Lancaster University, University of Leicester, University of Manchester, Northumbria University, University of Nottingham, Oxford International Pathways, Oxford Brookes University, University of Plymouth, University of Portsmouth, QA Higher Education, University of Reading, Robert Gordon University, Royal Holloway University, University of Salford, University of Sheffield, University of South Wales, Study Group, Swansea University, University of Ulster, University of Warwick, University of the West of England, Bristol, York St John University
UK Universities Education Fair 2020 - Mombasa, organized by Uniserv Education.
Website: uniserveducation.com/upcoming-events/uk-universities-education-fair-2020/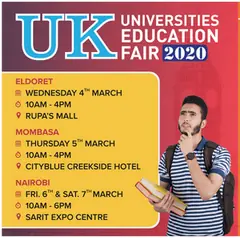 Venue: CityBlue Creekside Hotel, Mombasa, Kenya