Samantha Bridal Wedding Fair 2020
Views:
574
The Samantha´s Bridal Wedding Fair is an exciting 3-day event filled with fashion, beauty and style. It is Kenya´s most dynamic and effective place to meet leading industry players in the wedding, beauty, honeymoon, fashion, affluent women and their families.
The Samantha´s Bridal Expo attracts over 15,000 visitors over a period of 3 days. These visitors are a unique group; most of them have a budget and a deadline to spend it by. They are drawn by the many interactive and entertaining features such as the range of exhibitors, fashions shows on the catwalk, live demonstrations and exciting daily prize draws.
The show is host to over 100 exhibitors, primarily bridal specialists from Kenya primarily Nairobi; Honeymoon facilities & destinations; Beverage companies; Catering services; Bridal gowns; Grooms wear; Eveningwear; Accessories; Lingerie; Jewelry; Hotels & wedding venues; Photography & video production; Florists; Stage design; Limo services; Financial services & banks; Hair & beauty products & services; Shoes; Wedding stationery; Wedding cakes; Gifts & wedding favors; Bags; Magazines; Sound; light & entertainment; etc
Samantha Bridal Wedding Fair 2020, organized by Samanthas Bridal.
Website: www.samanthasbridal.co.ke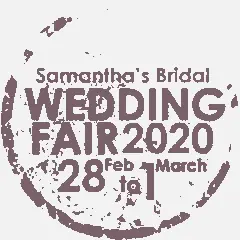 Venue: Sarit Centre Expo Hall, Westlands, Nairobi, Kenya