Mega Clima East Africa 2019
Views:
442
Bringing together experts and decision makers, these exhibitions will address the collaboration opportunities between local and the global HVAC+R sector players in the most developing regions.
The demand for HVAC products in Africa market is mainly driven by factors such as rising population, developments in the residential markets, and growing commercial and industrial units, increasing consumer demands for low-cost, energy efficient products. MEGA CLIMA family with its 4 great specialized exhibitions will generate strong figures and be a trusted source of development for the industrial sector, organized by ELAN EXPO, the exhibitions will definitely connect people with innovative and high-technology products.
After the successful years with Elan Expo´s experience in HVACR sector, and lengthy discussions with the industry regarding the need for a focused HVACR event in Nairobi-Kenya, we have responded and will launch Mega Clima East Africa 2019 from 11-13 November 2019. East Africa´s capital and main financial hub, Nairobi will provide the perfect platform to take the event to a higher level.
Mega Clima East Africa 2019, organized by ElanExpo.
Website: megaclimakenya.com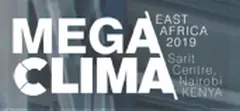 Venue: Sarit Expo Centre, Nairobi, Kenya
Some of the Exhibitors at the Mega Clima East Africa 2019: