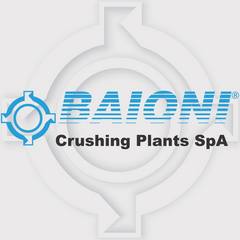 Italy
Baioni Crushing Plants is the world´s partner in the production of machinery for mining, quarrying, recycling and wastewater treatment. The company produces a complete range of machinery for the extracting and mining industry, manufactured 100% in-house, in Italy.

With production bases entirely in Italy at headquarter in Monte Porzio - Pesaro, the company, with more than half a century of experience and history and in the quarrying and related sectors, has today achieved a wealth of skills and know-how to enable quality production of its machinery for the various sectors it addresses, offering a complete range of solutions for the entire industrial processing cycle, in particular, offering specific and customized solutions for the following processes:
crushing
screening and washing
feeding
transport and storage
sand treatment

In the last few years Baioni has also specialized in the design and production of:
Plants and systems for solid separation from process waters.
Plants for the clarification of waters used in aggregates washing applications.
Plants for sludge dehydration using decanter centrifuges and filter presses, polymer preparation stations, pumps.
Complete systems for automatic management of processes.
Dust suppression systems, generated in aggregates crushing plants.
Website: www.baioni.it
Address:
Baioni Crushing Plants Spa Unipersonale
Via Cesanense, 176, 61040 Monte Porzio PU
61040 Monte Porzio (PU)
Italy
Contact Details:
Telephone:
+39-071-7950313
+39-071-7950207