24th Ethiopia International Trade Expo 2020
Views:
280
24th Ethiopia International Trade Expo 2020 is an international trade exhibition on all kinds of General, Consumer, FMCG, Industrial Products, Equipments, Machinery & Technology, etc.
With a population of approximately 120 million and an annual population growth rate of about 4.50 percent, Ethiopia is the third most populous country in Africa, after Nigeria and Egypt. Land area is 1.14 million square kilometers (423,828 square miles). With a per capita income in 2002 of roughly $90, however, Ethiopia ranks among the poorest countries in the world. Despite its poverty, Ethiopia has been among the top ten markets in sub-Saharan Africa over the last several years, due primarily to airplane exports. U.S. exports to Ethiopia in 2002 were $60 million.
The agricultural sector, consisting mostly of small holdings, accounts for about 45 percent of the nation´s gross domestic product, 85 percent of total employment, and more than 80 percent of merchandise exports.
As a land-locked country, Ethiopia relies on the port of Djibouti for nearly all of its trade, although it is exploring the use of alternative seaports in Sudan, Kenya, and Somaliland. Ethiopia´s primary exports are coffee, chat, hides and skins, sesame seeds, pulses, live animals, honey and beeswax, spices, natural gum, fruits and vegetables. Coffee is by far the most important export commodity, constituting between 40-50 percent of exports by value. The country´s main imports include motor vehicles, petroleum products, civil and military aircraft, spare parts, construction equipment, medical and pharmaceutical products, agricultural and industrial chemicals, agricultural machinery, fertilizers, irrigation equipment, and food grains. The major manufacturing sub-sectors in Ethiopia are food processing, beverages, textiles, clothing, and leather goods.
24th Ethiopia International Trade Expo 2020, organized by Innovation Marketing / In Exhibition Org Group.
Website: africantradefairs.com/24th-ethiopia-intl-trade-expo/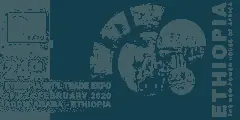 Venue: Addis Ababa, Ethiopia