AddisBuild is an international construction, steel, construction machineries and infrastructure exhibition.
Organized annually since 2010, AddisBuild is the longest standing construction event in East Africa. Due to the regular increase in exhibitor and visitor numbers, AddisBuild has a lot to offer for networking and finding business leads. Being just right in the action, the AddisBuild has always been the primary choice of international companies seeking to make business in Ethiopia.
At AddisBuild benefit from the great trade and investment opportunities in Ethiopia and East Africa.
10th AddisBuild 2019, organized by Ethel Events.
Website: addisbuild.com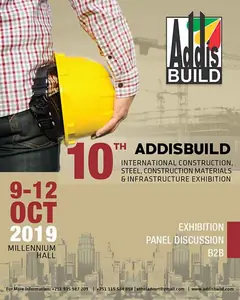 Venue: Millennium Hall, Addis Ababa, Ethiopia