Aviation MENA Summit & Exhibition 2020
Views:
277
The Middle East and North Africa has been a catalyst in the aviation industry for more than a decade with the major Gulf carriers driving change in aircraft technology and passenger experience along with eye-watering investment in business aviation, oil and gas operations and aerostructure manufacturing.
But the MENA region and Turkey is much more than simply the Gulf states.
Aviation MENA will be bringing the whole region together with a summit and exhibition that will break down the &quotHaves&quot and &quotHave Nots&quot and share the aspirations and plans of the industry players from across the region.
Airlines from the re-emerging countries such as Iraq, Syria, Lebanon and Libya will join the established players from Jordan, Morocco and Saudi Arabia to share thoughts and strategies and meet with the international audience and supply chain who want to work alongside.
At the centre of the debate will be Egypt – the historic heart of the industry across the whole Arab world – with its national carrier EgyptAir – the summit host and partner in the event.
Issues like training standards and human capital, maintenance and safety, low-cost carrier versus legacy carriers, airports and ground handling will form the core of the summit discussions with speakers from government, civil aviation authorities, airlines, airports and aviation services companies.
The event is a 2 day summit and co-located exhibition; featuring over 100 global aviation companies.
Aviation MENA Summit & Exhibition 2020, organized by African Aviation Services Ltd.
Website: www.aviationmena.aero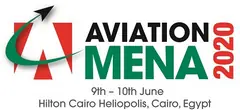 Venue: Hilton Cairo Heliopolis, Cairo, Egypt